viernes, julio 15th, 2016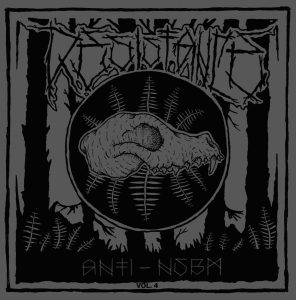 1. Crepusculic Shadows – Lost in My Obscure Dreams
2. Ker – Latibule
3. Pergamo – Laodicéia
4. Funeral Art – En la oscuridad me encontraste (pero era yo quien te estaba buscando)
5. Huldrekall – Traversing the Borderland State
6. Othismos – Nessuna promessa di cambiamento
7. Seeds In Barren Fields – I Mörkrets Timme
8. Bertran De Born – Rethalhos-Infectus
9. Rhytmic Ceremonial Ritual – Glück
10. Eldrich – Lung Fiber
11. gudsforladt – Behold the Consequence
12. Danos – Fuck You From The Underground
13. Canis Lupus – (war and sun)
14. Welkend – Seelennebel
15. Deafest – Precipice [Catamount]
16. Arwenundomiel – Pulgoroz-Burz
17. Mirogoy – Serpent of the Ardennes pt. I
18. Autarch – Pleiades
19. Askesis – The Triumph Of Gravity
20. Bohrcurie – Lizards
21. Old Soul – Tome
22. Vvvlv – Homo Economicus
23. Tristeza Infinita – Devorados pela Europa
24. Black Trinity – Plague of the Sacred
25. Iarnvidjur – Das Götlliche
26. Mörkhimmel – Nepřítomný nepřítel
27. Batrakos – A cena col dimonio
28. Kultą – Птицы (together with Misha (Vólan) and Eli Mavrychev (VORVAŇ)
29. Addaura – The sun shines to-day also. (on the oaks of That Bird Hill)
30. Kronstadt – Bratrstvo Sibenic
31. Kluizenaer – Theodicee Van Het Kwaad
32. Seventh Genocide – Summer Dusk
33. Благо – Канибализм
34. Namet – Crnilo života
35. Vindkast – Unto the Earth
36. Herida Profunda – Big Business Pighole
37. Wisent – Danau Toba
38. Haeresis – Summit Cross
39. Seher – Geist
40. Hieros Gamos – Bella Ciao Black Metal
41. Shadow Lake – Forging Towards Annihilation
42. KVØID – Ending Our Reign
43. Vranac – Воля к смерти
44. Гниль – Смрад
45. Moro Moro Land – If you stand and fight
46. Regnvm Animale – Ars Moriendi
47. Nimrud – Ishkur
48. Leichnam – Black Tar
49. Diablop – Kler
50. Ast – Hypnos
51. Crudelis In Veternum – …. AETHERis Veternum
52. Brutal Morticínio – A Eterna Marcha da Devastação
53. Ghost Moth – Megarhyssa macrurus
100% of the proceeds of this compilation will go toward comrade Gimmy, G8 (news.bbc.co.uk/2/hi/business/1441128.stm) activist to help him with efforts for his gf funeral. His gf committed suicide while he is in cage. His letter:
«Hi everyone, i'm Francesco Puglisi a.k.a Gimmy. I'm in jail from 4th June 2013 after one year of rush with my gf Paola Ferla. I got arrested in Barcellona, Spain. Now I can say to all of you I decided to escape with her instead of go with my feet in jail. I write this because my lovely and libertarian Paola Ferla died (she's not dead, she's alive and fight close to me). She died in Genoa. Sounds crazy. I was condamned to spend 14 years after 10 years of agony and process. I write to you cause Paola's parents still havent got money for funeral costs. 6000 euros. Moving Paola from Genoa to Canicattini bagni (Siracuse). I know out from here is hard and everyone of you have his troubles, but I ask you a little effort, to every anarchist comrades, all can be part of this cause with a revolutionary action, cause also help with the funeral of the gf of a comrade in jail for facts concern everyone, is a revulutionary action. »
The letter continues with how he met his gf. You can find it here in italian, but very simple to translate it online.
www.informa-azione.info/prigionieri_g8_2001_lettera_di_gimmy_e_appello_alla_solidariet%C3%A0
released May 30, 2016
Thanks to Hagiophobic for the art.
hgphbc.tumblr.com
If you want to get the limited edition cassette write to scagliedirumore@gmail.com